Accidents on Ahmedabad 'killer road' go down: Study
05 / 11 / 2012
Source: Daily News & Analysis India
Photo: Wikipedia by Amcanada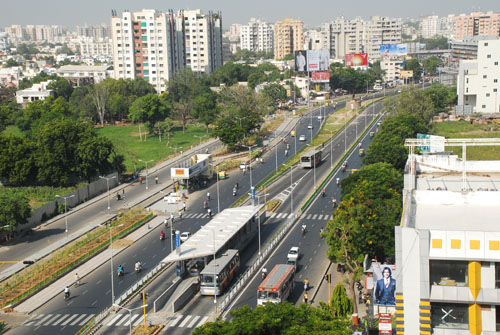 It seems the Bus Rapid Transit System (BRTS) has not only introduced a faster mass transport system with improved infrastructure but also systemized road traffic in Ahmedabad. If statistics of road accidents released in a Centre for Environmental Planning and Technology (CEPT) University study are to be believed, the number of accidents has gone down in stretches like Narol-Naroda in eastern Ahmedabad, earlier known as 'killer road'.

According to statistics sourced from the Ahmedabad Traffic Department by Cept, at least 4 persons lost their lives in road accidents on the Narol-Naroda stretch every month – a total of 47, in 2006. The BRTS was introduced in the Narol-Naroda route towards the end of 2010, when two people were killed every month on the stretch. For the year, 24 people were reported dead in road accidents.

The study says the number of fatal accidents in 2011 has come down by 50%, as 12 people died in road accidents in 2011.

The number of serious accidents in the Narol- Naroda stretch in 2006 was 18, 9 in 2010 and 11 in 2011. The total number of accidents on the stretch has thus come down from 183 in 2006 to 151 in 2010 (when BRTS was launched) and 147 in 2011.

HM Shivanand Swamy, associate director at CEPT, said that the reduction in accidents is significant because the number of trucks plying on the Narol-Naroda stretch has not gone down.

"Around 30% of accidents on the stretch happen because of trucks. Despite the number of trucks remaining the same, accidents have gone down," he said.

The reasons for fewer accidents could be improved road infrastructure on the BRTS route. Authorities say broad roads and barricades along the BRTS corridor have restricted citizens' habit of driving on the wrong side and switching sides while driving.

"Now they have, perforce, to take a turn and use traffic junctions. Also, the junctions are well managed by the traffic police deputed there," said Utpal Padia, executive director of the Special Purpose Vehicle, Ahmedabad Janmarg Limited (AJL).

SM Khatri, Deputy Commissioner of Police (DCP), Traffic, Ahmedabad, said that one of the reasons could also be that because of wide roads along the BRTS route, response time for emergency services has also gone down and so it is possible to provide medical help to accidents victim faster than before.



¿Comments? ¿Opinions? ¿Similar News? Send them to us!