BRT special edition of Built Environment
10 / 20 / 2010
"Bus Rapid Transit: A Public Transport Renaissance" is a special issue of Built Environment (Volume 36, number 3, edited by Professor Sir Peter Hall and Professor David Banister, guest editor: Lloyd Wright, Viva) that traces both the history of and the current trends in BRT across the globe, providing a regional perspective on progress and challenges.
The following papers from members of our CoE are included in this publication: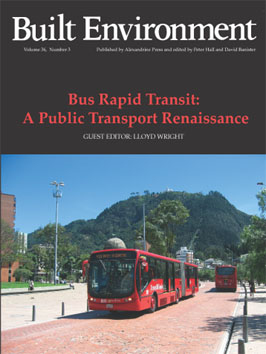 Curitiba, the Cradle of Bus Rapid Transit
Authors: Luis Antonio Lindau, Dario Hidalgo and Daniela Facchini
Page start: 274
BRT in Latin America – High Capacity and Performance, Rapid Implementation and Low Cost
Authors: Dario Hidalgo and Aileen Carrigan
Page start: 283
More info: Promotional flyer and oficial website





¿Comments? ¿Opinions? ¿Similar News? Send them to us!