Chennai: Hopes about BRTS still persist
09 / 21 / 2011
Source: The Hindu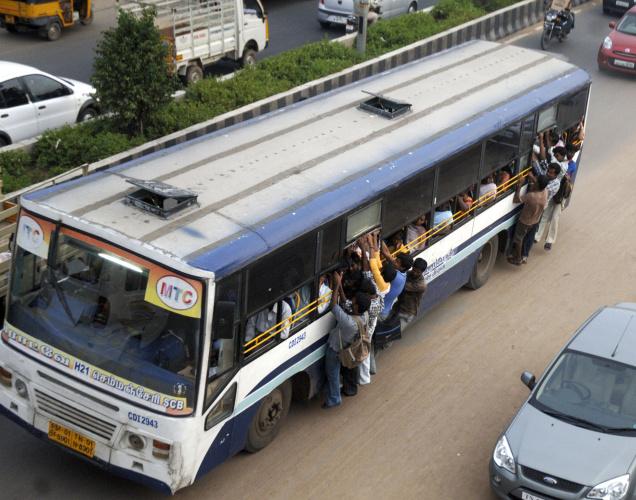 Inadequate?: An overcrowded bus on Rajiv Gandhi Salai where a dedicated bus lane is being proposed.
Where will Chennai, India figure if its public transport bus system is compared with other large metropolitan cities? The sad truth is: somewhere at the bottom of the pile. The Metropolitan Transport Corporation's (MTC) operational fleet of 3,000 buses is one of the lowest among any major metropolis in the country. The comparison with Delhi's fleet of 8,000 or Bangalore's 6,100 buses is even more telling because both the cities transport fewer passengers every day than Chennai.
Most major city bus services in the country account for a ridership of 40 to 50 lakh passengers a day. The MTC carries 56 lakh passengers a day with less than half the number of buses as other cities. Overcrowding during rush hour is rampant.
Since its days of glory in the 1980s when the then Pallavan Transport Corporation was considered one of the best in the country, public transport in the city has taken a major hit due to persistent neglect, say experts. One attempt to reverse this trend in favour of public transport is the Bus Rapid Transit System (BRTS) proposal which is under the consideration of the government. The move is long overdue. Surveys to build dedicated bus lanes were undertaken in 1967, 1975 and as recently as 2009. Every time, private vehicle traffic was given preference and diverting a lane exclusively for buses was found unfeasible. This, despite the fact that MTC buses transport over 50 per cent of the passenger volumes on major arterial roads.
"There is an element of social equity involved when deciding who gets to use the city's road space," says Shreya Gadepalli of the Ahmedabad-based Institute for Transportation and Development Policy (ITDP). MTC buses plying through both Anna Salai and Grand Southern Trunk Road have a carrying capacity of about 11,000 passengers per hour per directional (pphpd), which, interestingly, is almost the same as a monorail corridor. "The BRT being proposed on Rajiv Gandhi Salai will have a capacity of 14,000 pphpd," says Ms.Gadepalli.
Buses can shuttle through the proposed corridor at 25-30 kmph, instead of the current average speed of 6 kmph.
The amount of overcrowding and delay due to congestion will soon become too much to even sustain bus operation in Chennai, says Sudhir Badami, an urban transportation expert and a member of the Mumbai BRTS technical advisory committee.
"Studies show that bus passengers get exhausted by the amount of crowding as well as side sways and lateral forces even for a 2-3 km journey. Why should the majority of people suffer just because a few people can go in cars? It is the duty of the government to ensure equitable living standards and a respectable, dignified life for everyone," Mr.Badami adds.
Insisting that no amount of road building can accommodate the vehicle growth rate that the city is going through, R.Balasubramanian, a former Managing Director of MTC, said "Proposals for a dedicated bus corridor on OMR were made way back in 2006. But we never do things until it has become too late. Our city planners have largely failed to provide residents a better quality of life."
¿Comments? ¿Opinions? ¿Similar News? Send them to us!