Sustainable transport moves center stage as Brazil's 2014 World Cup looms
01 / 20 / 2011
Source: Smart + Connected Communities Institute by Laurence Cruz.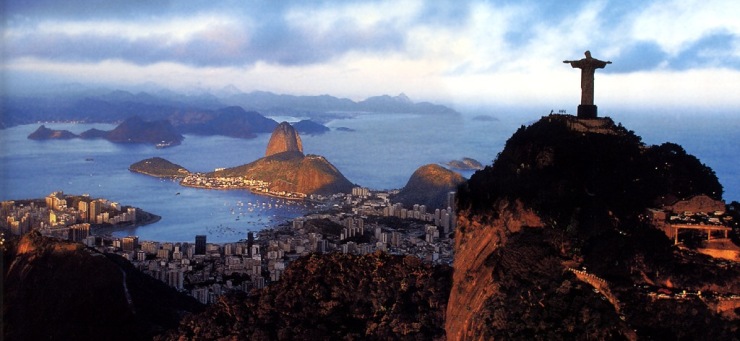 Sustainable transport may not be the first thing people associate with Brazil – a country that typically calls up images of soccer, samba and coffee. But that may be about to change.

With an additional 2.98 million visitors expected to flock to South America's largest country for the 2014 World Cup, urban planners are seizing what they see as a golden opportunity to upgrade sustainable transport systems in the 12 host cities. And in this nation of buses, that means special attention to state-of-the-art Bus Rapid Transit (BRT) systems, which provide faster, more efficient service than ordinary bus lines. Federal, state and local governments in Brazil have already committed nearly $6.5 billion in urban transit investments for the purpose, a figure that's expected to increase with private investments.

For more insight into Brazil's approach to sustainable transport and in particular to BRT systems, Smart+Connected Communities Institute spoke with Toni Lindau, Ph.D., member of our Centre of Excellence and director of the Center for Sustainable Transport in Brazil (CTS-Brasil), which is part of EMBARQ.


What are the main challenges facing Brazil from a sustainable transport perspective as it prepares to host the 2014 World Cup?

Toni Lindau: Brazil's government would say we are well on our way to a sustainable transportation system. Brazil is very proud of its ethanol program where gas purchased at the pump is about 25 percent ethanol from sugar cane. We are also much less dependent on cars than the United States, where public transportation accounts for only about 5 percent of urban travel. In Brazil, half of all motorized urban travel occurs on public transport, the vast majority of it buses. We are probably the bus nation of the world. Yes, buses pollute because they still run mostly on diesel, but society is now demanding much cleaner fuels like biodiesel, natural gas, clean diesel and eventually hydrogen beginning to come online.
That said, the World Cup is a great opportunity to upgrade our bus systems, and to move from ordinary, privately operated bus lines to BRTs, which Brazil has pioneered. We have corridors that run more than 100 buses per hour at the peak direction, and many of the buses are empty because there are too many lines overlapping and competing with each other. BRT systems provide optimized services with articulated or double-articulated buses that can handle about 15,000 passengers per hour, per lane, per direction. This is one of the main things we're working on for the World Cup.

What are some of the main transportation projects taking place?

Toni Lindau: Brazil is planning nearly 300 miles of BRT corridors for the 12 World Cup cities. In Rio de Janeiro, the major World Cup venue, CTS-Brasil is supporting some very significant changes, including at least 75 miles of BRT corridors and about 185 miles of improvements in bus routes, such as bus lanes, better signaling, better user information, rationalization of bus lines and so on. And, of course, these BRT projects will remain after the World Cup and after the Olympic Games in 2016. There's no point in planning systems that will not survive after these events.

You led development of a special BRT Simulator for EMBARQ to help with this kind of planning. How does that work?

Toni Lindau: The EMBARQ BRT Simulator is a software tool that's specifically built to explore alternatives in BRT design. Many of the simulators used around the world were designed for individual vehicles like cars and then adapted for public transport. They have a strong bias from the developed world, meaning you put a bus here or there and make it run with the cars and so on. But instead of buses every 10 minutes, in Brazil we're dealing with much higher flows, in some cases with buses every 10 seconds. So we designed the EMBARQ BRT Simulator to accurately represent a high-performance bus operation. The BRT Simulator helped Rio de Janeiro in its bid to host the Olympics. We used it to test proposed corridors that were still on paper and were able to predict bottlenecks and make some minor design adjustments in elements like vehicle sizes and station layouts that would lead to great improvements in performance.

What are some of the design choices you are making and why?

Toni Lindau: We're borrowing many concepts developed in underground subway train systems around the world and using this knowledge to design fantastic BRT systems on the surface. For example, why design buses with narrow doors when this leads to long lines at stations and therefore slower speeds and lower capacity? Why design bus stops that can only serve one articulated bus at a time when you can design them to serve two or more buses and thus increase capacity? And why make passengers pay inside buses when they can pay outside, or make them climb up steps to board when you can design bus stops that put passengers at the same level as the bus, as in subway systems? Most unfortunately, as the BRT concept is not yet fully consolidated, many designers still use a trial and error approach and have to correct inefficiencies after the system starts to operate.

What top five pieces of advice would you give to sustainable transportation planners in other cities around the world?

Toni Lindau: In the United States and some other developed countries, there's a tendency to use the term BRT to denote bus systems that present design improvements over the more conventional ones. In the developing world, we are yet to fully differentiate busways from BRTs. To design a true state-of-the-art BRT system, I suggest focusing on the following:
1) The power of image: There is no reason why BRT systems should not be beautiful in addition to having all the necessary components. Aim high. Don't settle for a degraded BRT design or infrastructure to be improved in the future. We should aim to deliver the same high standard in surface systems that we see in the best underground subway systems.
2) User-friendly maps: Maps of bus lines are notoriously confusing due to the large number of overlapping and competing services, but BRTs don't need to be. Look at the map of the London Underground. It's color-coded and easy to understand. People visiting a World Cup city should be able to look at the BRT map and say, 'OK, I can ride this.'
3) Interoperability: Transferring between lines in a transit system can be a major hassle. Even if the BRT corridors are not all built at once, they should share the same standards so that they are interoperable. BRT passengers should be able to transfer easily between the lines of different corridors and also have the opportunity of choosing services that benefit from running along several corridors.
4) Passing lanes: Don't think of BRTs as running on a single lane and stopping at every bus stop. A high performance BRT system needs to benefit from the use a mix of services including a higher component of express and semi-express services that jump several stations. That means adding passing lanes at bus stops or an extra lane per direction in areas where demand is heavy.
5) Reliability: People want to know that a trip will take x minutes, not x + y where y is a big number. A bus service that takes anything from 15 minutes to one hour to reach a destination depending on traffic is very bad for users. Again, underground subway systems do a better job at this, but it needs to be replicated in surface systems. Travel times are more predictable if a BRT system has a center that controls operations in real time. The lesson is, don't under spend on controlling the system. Go for high standards.


¿Comments? ¿Opinions? ¿Similar News? Send them to us!