The Road Not Taken – Amman Bus Rapid Transit system
04 / 18 / 2012
Source: Jordan Business by Hazem Zureiqat*

In three years of political turmoil and economic drift, Jordan has seen plenty of error. The decision to kill the Amman Bus Rapid Transit system is one such mistake. Hazem Zureiqat looks at the project's inception. What went wrong and where do we go from here?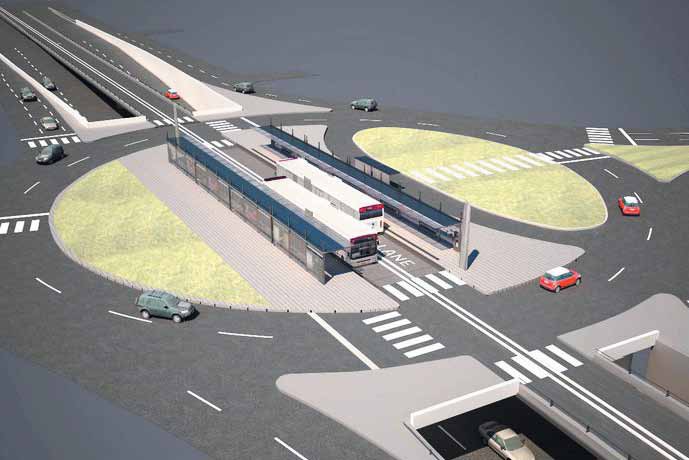 Rendering of GAM's solution for the Press Tunnel. The BRT lanes will run on a raised structure above the tunnel and will then pass the intersection at street level. A BRT station will be located at the intersection.


Most of us have seen the abandoned two kilometers of bus lanes along Queen Rania Street. They are part of an ambitious 32-kilometer network of bus rapid transit (BRT). The Amman BRT project, known in Arabic as Al-Baas Al-Saree, has been a hot topic in the media and among the residents of Amman. Much has been said on the project and where it stands today, but truly understanding this particular issue requires taking a step back and looking at the bigger picture.

From Roundabouts To Rapid Transit

Urban transport planning, in its comprehensive and multi-modal context, has never really been part of the public discourse and policymaking in our part of the world. Some would even argue that this is the case for other forms of planning, be they physical or otherwise, but the absence of proper transport planning has been especially palpable in our oilrich region.

It is not hard to make out how this longstanding approach to doing things (or not doing them) has manifested itself in Amman. The city today is marred by countless bridges and tunnels. Sidewalks are, for the most part, ineffective, and pedestrian crossings are virtually non-existent. Public transport is in disarray, with over 70% of the fleet comprising of small service taxis or Coaster buses, many of which are individually owned and operated. With the rapid population growth the city has experienced, the size of our fleet of large buses remained constant between 2000 and 2010, after which an additional 116 buses were introduced. Meanwhile, car ownership levels in the city are increasing by an alarming 10% to 15% per year, even among households
with fairly low levels of income. At the same time, more than half of the city's population is under the age of 25; add to that the increasing rate of female participation in the labor force, and what you get is nothing short of an explosion in future transport demand that no road widening, bridge or tunnel would be able to accommodate.

So, how did we get here? Firstly, we have been relying for too long on cheap oil from our neighbors, so building roads and importing more cars was the way to go, not just in Amman, but at the national level as well. Secondly, the institutional set-up was not designed to give the right incentives for policymakers at the municipal and national levels to think more systemically.

In Amman, traffic engineering and operations tasks, in addition to spatial and land-use planning, fell under the responsibilities of the Greater Amman Municipality (GAM), while public transport planning and regulation was under a different entity working at the national level, the Land Transport Regulatory Commission. Coordinating both functions was not easy across different bureaucracies.

Today, things have changed. We no longer have access to cheap oil – or at least not to the same extent as we did prior to the 2003 US-led invasion of Iraq. Prime Minister Awn Khasawneh recently reiterated this point in an interview on Jordan Television's 60 Minutes. The premier cited the large number of cars that enter the Kingdom each year, adding that meeting the energy bill has become Jordan's primary economic challenge.

The weak institutional set-up – the second reason listed above – has been addressed and we now have the right framework to think and plan in a more integrated fashion. In 2007, planning and regulation of public transportation within Amman became part of GAM's responsibilities, and today GAM has one integrated Transportation Planning Department that deals with all modes of transport, from private cars to public transportation and pedestrians. More and more, decision makers and staff at GAM are becoming well aware that the problem in Amman is about moving people and goods, not just cars, and that our transport system needs to be more balanced and multi-modal and should be planned accordingly – all while taking into consideration changes in land use and zoning.

The question becomes then: what has happened since the institutional changes of 2007? GAM developed a Transport and Mobility Master Plan (TMMP) that outlined the city's mobility needs for the period leading up to 2025. The study involved conducting a survey of around 10,000 households to assess their transport behavior. That survey, along with extensive traffic and public transport data collection across the city, created a rich database that formed the basis of the Amman transport model, a powerful planning tool that integrates transport, land use and socio-economic data.

As the outcomes of the TMMP began to emerge, it became clear that the city needed a higher order, namely a more rapid public transport mode. Several options were analyzed, and BRT emerged as the preferred option for Amman due to its low cost, effectiveness and relative ease of implementation given the city's hilly terrain. BRT is a term used to describe public transport systems in which buses run on a segregated right-of-way, essentially offering a service similar to that of trains (but, clearly, at a fraction of the cost). A BRT lane in Amman can accommodate more than three times the number of people in a regular traffic lane. BRT was first implemented in Curitiba, Brazil in 1974, and has since been successfully constructed in over 120 cities worldwide. Often cited as one of the most successful examples, the BRT system in Bogotá, Colombia, has a current capacity of 45,000 passengers per hour in each direction, which is higher than the capacity of most metro systems worldwide.

Amman BRT And The Perfect Storm

In early 2009, GAM commissioned a comprehensive study to develop the BRT scheme for the city. The study aimed to first validate the BRT network developed under the TMMP and then to develop the complete service and operations plan for the system (in terms of number of buses required, frequencies of service, etc.). This would be followed by estimating the demand and revenue forecasts and operating costs; preparing an economic feasibility study and an environmental impact assessment; and finally, developing the detailed engineering designs for the infrastructure, from bus lanes to stations and terminals. Focus groups were held to obtain a better understanding of the problems people face when using different modes of transport. An additional survey was carried out at the University of Jordan, one of the key nodes along the BRT network, to ascertain what students felt they needed in a new public transport system.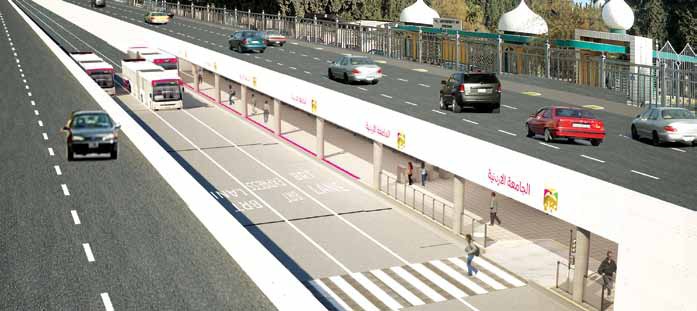 Rendering of the BRT station by the University of Jordan. This is the only underground station along the 32-km network.


As the economic and financial appraisal of the BRT began, work on developing the infrastructure design was undertaken in parallel. It was clear at the outset that the engineering design of a 32-kilometer network of exclusive bus lanes would be a challenge given the large number of grade-separated intersections (i.e. intersections with multiple levels) in Amman. Starting that process early on was, therefore, essential. As is the case with such complex projects, an iterative approach was adopted, so designs were constantly discussed and revised as work on other streams progressed.

Contrary to what many seem to believe, intersections such as the Press Tunnel and Sports City were tackled early on. Alternative solutions were analyzed based on various criteria, such as the level of BRT priority, accessibility to passengers, construction costs and impact on traffic during both construction and operations.

Throughout this entire process, the French Development Agency (AFD) was heavily involved in the appraisal of the project to ensure its feasibility, both economically and financially. After conducting a thorough financial audit for the municipality, the AFD and GAM signed a credit facility agreement under which the AFD would provide a $166 million loan to GAM to fund the construction of infrastructure for the Amman BRT. This was a soft loan that was offered directly to GAM with no sovereign guarantee from the Government of Jordan. It demonstrated AFD's faith in the project and in GAM's ability to pay off the loan in due course.

After detailed designs were completed for some sections along the BRT network, GAM began tendering out construction works. Construction of the first two kilometers along Queen Rania Street began in July 2010, and was completed the following year.

As the first package of BRT was being constructed, there was an unexpected turn of events. In May 2011, some members of parliament called for the BRT to be suspended. Some said it was a "failure" while others deemed it "unsuitable for Amman". At the end of following month, then prime minister Marouf Bakhit formed a ministerial committee to reassess the project. During the same period, a number of media outlets, including a prominent daily newspaper, attacked the project as a corrupt and failed endeavor. The Audit Bureau, which had previously offered its seal of approval along various stages of the project, issued a report saying the BRT was "not feasible". Not surprisingly, since the report was issued by an entity whose responsibilities never included preparing feasibility studies, the report lacked the basic elements of such studies and was erroneous in many respects, according to technical staff at GAM.

Meanwhile, the ministerial committee conducted a comprehensive review over the course of two months, looking at technical, financial and environmental aspects of the project. It issued a very positive assessment of the scheme and clearly stated that there was no evidence of corruption. This assessment was sent to the Cabinet of Ministers, which issued a very brief, weasel-worded decision on September 10, 2011, to temporarily suspend all construction works on the project pending further independent review. As of the date of this writing, this review has yet to take place.

It is difficult to frame such a bizarre turn of events within a rational context. Developments across the region took policymakers in Jordan by surprise. The decision-making process, already distorted at the time due to the lack of political reforms, became even more crippled. A haphazard fight against corruption put everyone and everything under question, creating an environment in which decision makers opted for stalling or adopting a more populist approach rather than performing their managerial duties as public officials.

The Amman BRT and perhaps GAM as an institution were easy targets. The biggest losers in all of this, however, are the people of Amman. Our ability to move around the city is at stake, and we should not remain silent.


* Hazem Zureiqat is a transport consultant working for Engicon, a multidisciplinary engineering consulting firm based in Amman. Prior to joining Engicon, he was part of GAM's core transport planning team.




¿Comments? ¿Opinions? ¿Similar News? Send them to us!