The Stark (and Hopeful) Facts About Bus Ridership
06 / 11 / 2018
ORIGINAL in CityLab by Zak Accuardi 
It's not a death spiral—at least, not yet. Examples abound of how city leaders can turn the numbers around.
Any frank conversation about building better bus service in American cities must address one fact at the outset: Ridership is in free fall across the country.
Numbers released last month from the Federal Transit Administration's National Transit Database show a 2.5 percent decline in total transit ridership from 2016 to 2017, with bus ridership leading the way with a 5 percent drop. This nationwide decline in transit ridership has been in progress since 2014, despite growth in U.S. population and employment.
The result? More cars on the road, more traffic deaths, more lost time in longer commutes, and more pollutants in the atmosphere.
These troubling trends demand the attention of transit agencies who need to honestly assess where service improvements are needed most. Fixing the decline will also require political will from elected officials to give priority to buses on city streets where transit ridership and traffic are both in ample supply. Luckily, there are some examples of how to do this.
But first, the harrowing numbers. Only four of the country's high-ridership regions saw an overall increase in transit use (across trains, buses, and other modes) in 2017: Seattle, Phoenix, Houston, and New Orleans. Seattle, San Francisco, Phoenix, and New Orleans are the only high-ridership areas where bus ridership increased in 2017.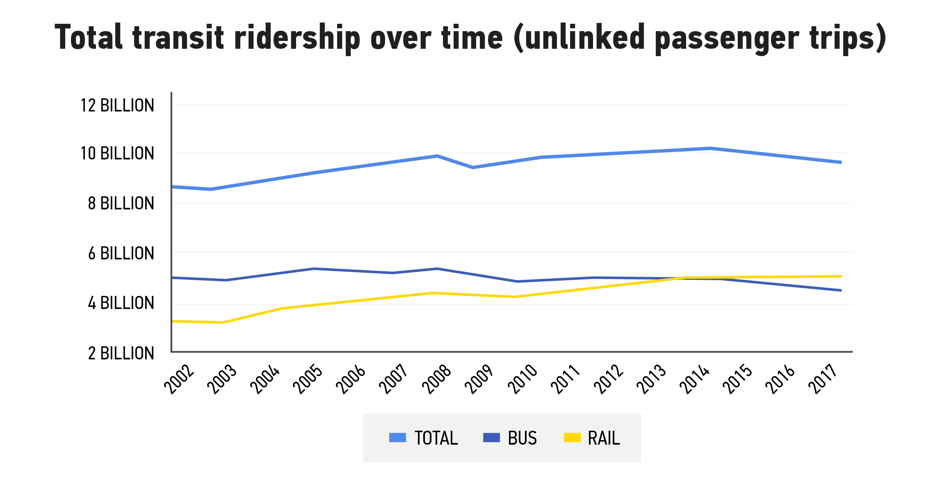 In addition to the most recent annual numbers, it is important to consider longer-term trends. Going back to 2014, ridership is down 7 percent, and bus ridership in 2017 was down almost 20 percent from its peak in 2008. During the same nine-year period, the Chicago Transit Authority alone lost more bus riders than all U.S. agencies with growing ridership gained. Seattle's King County Metro (an 8 percent increase in bus riders) and San Francisco Muni (a 19 percent increase) are the two bright spots among major cities during those nine years.Historically, this isn't the first time bus ridership has fallen, but it is now at its lowest level in the past 30 years. Bus ridership also declined sharply in the early 1990s, before recovering steadily for about a decade.
This decline may also be different: 2018 will be the first year that for-hire vehicle trips (including taxis, Uber, Lyft, and their peers) will outnumber bus trips in the U.S., transportation consultant Bruce Schaller forecasts. Research in New York, San Francisco, Boston, and nationally show that the rapid growth of ride-hailing is adding new vehicles to congested city streets. These services offer shared rides via "pooling" services, but they have seen limited uptake and cannot physically match the people-moving efficiency of city buses.Meanwhile, the theoretical advantage of this space efficiency has in recent years often been defeated by crippling city traffic. Yet the bus is not at an inherent disadvantage relative to trains, which have seen ridership growth and typically run on a dedicated right-of-way. Transit agencies and city governments simply need to make buses useful, which is to say fast, frequent, and reliable. To do this, city and transit agency officials need to start by assessing ridership trends in a local context.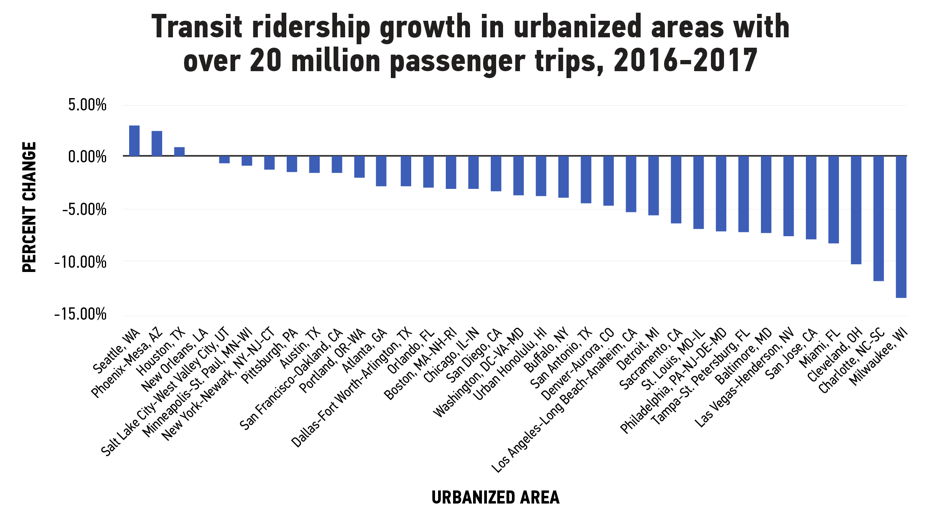 Amid the gloomy trends, examples of success abound. In Houston, METRO realized that even as it added more transit service, ridership did not respond—leading the agency to redesign its entire bus network. Since the redesign, Houston METRO is outperforming its peer agencies in terms of ridership, even with a bus ridership decline of 0.01 percent in 2017 (bus ridership at lead transit agencies in San Antonio and Dallas is down 4.5 percent; in Austin, down 1.3 percent). Ridership on every one of New York City's "Select Bus Service" routes has outperformed ridership trends in those routes' respective boroughs. Nashville's bus rapid transit-esque routes have also bucked the region's downward ridership trend. In fact, nationally, "Rapid Bus" service in the National Transit Database has seen consistent yearly ridership gains since it was introduced as a new category in 2012, even as bus ridership overall has declined (though at least some of this increase is due to new "Rapid" lines opening, rather than ridership growth on existing routes). 
Seattle and San Franciso's success is especially telling—besides adding service, which Seattle transit operators have also done, the City of Seattle has taken an active role in both funding transit and prioritizing transit improvements. In San Francisco, the transit agency is also a municipal entity, the San Francisco Municipal Transportation Agency (SFMTA), so transit operations and planning are integrated with management of city streets. With respect to buses in particular, SFMTA developed and oversees the Muni Forward program, a city-wide effort to improve bus service. These effective plans stand in stark contrast to the absence of comprehensive bus service improvements in New York City, Los Angeles, and Chicago—cities whose largest transit agencies together comprise 40 percent of all bus ridership decline since 2008.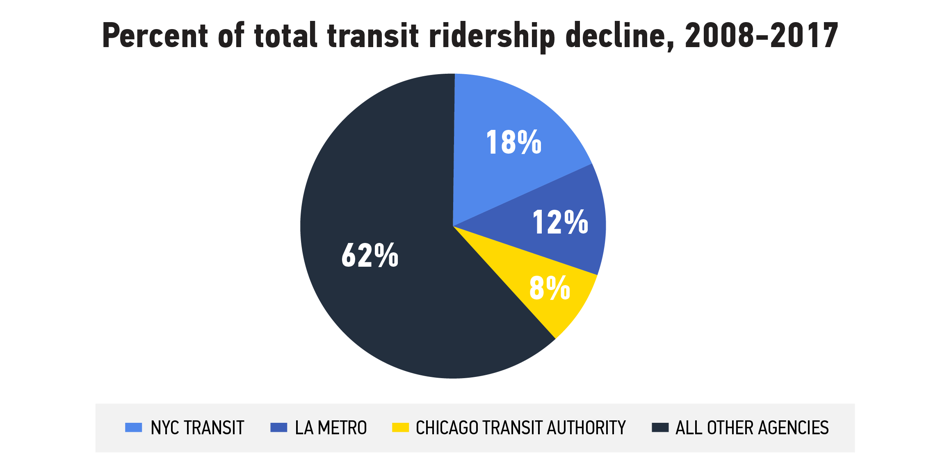 There are plenty of strategies at transit agencies' disposal that are proven to get buses moving faster. In addition to dedicated lanes, cities can design streets with "bus bulb-outs" that allow buses to pick up passengers without blocking traffic, and optimize traffic-light timing using "transit signal priority" to help buses catch lights before they turn red. Transit agencies can allow riders to board through all doors, and install 21st-century fare payment technology to reduce the time buses spend at bus stops.
Ultimately, though, putting transit ridership back on an upward trend will require a sustained political commitment to improving local bus service. This is not a problem that our elected leaders can solve solely through technological innovation or big, shiny infrastructure projects. Instead, transit agencies and city leaders should work together to leverage transit's most important competitive advantages—capacity and dedicated right-of-way—by giving priority to transit in the places where ridership and congestion justify it. Municipal support and coordination with transit agencies will define the destiny of urban transportation's most underrated workhorse: the local bus.